S.H.I.E.L.D. Training, and 'Rogue and Friends' Vault (9/27/17)

Brigby
ADMINISTRATORS
Posts: 7,757
Site Admin
Hi Everyone,
With the release of Rogue (Classic), not only will there be a special Vault, but also a new event called S.H.I.E.L.D. Training.
S.H.I.E.L.D. Training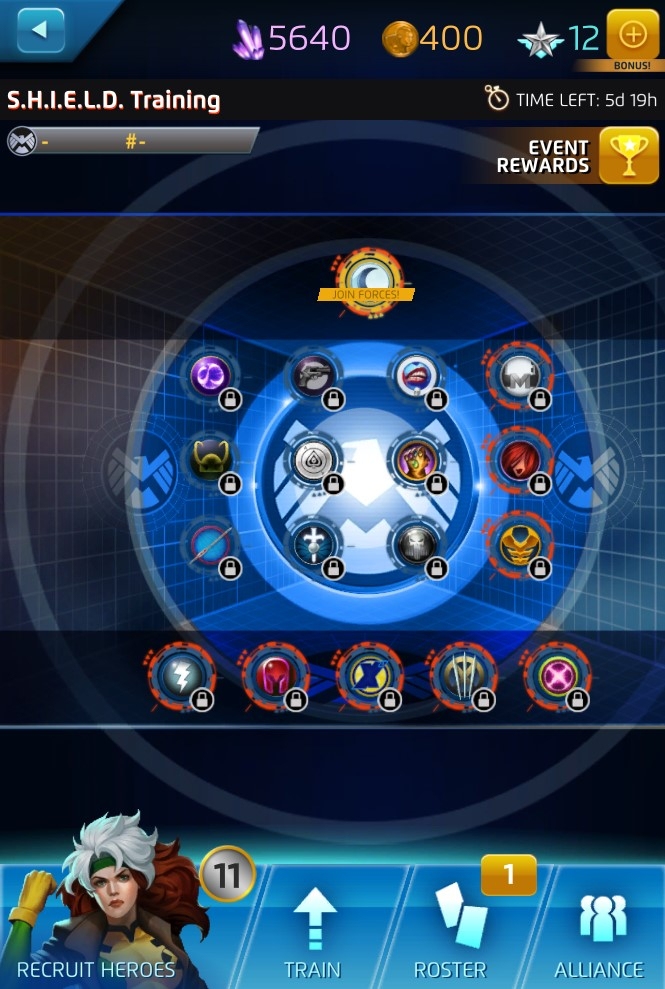 As players level up certain characters, not only do they get the satisfaction of bolstering their characters' strengths, but now they're also rewarded by unlocking missions in this event. Completing these missions will earn players Rogue (Classic) cover, Iso-8, Event Tokens, and even Command Points and Legendary Tokens!
Check out all the details below:
Starts: Thursday, September 28th, 7am EDT
Ends: Thursday, October 5th, 7am EDT
Runs alongside other Story events
All missions can only be played once for a reward.
There are no Placement rewards
Missions
Welcome to S.H.I.E.L.D.


1 Join Forces mission with Rogue (Classic), Cyclops (Classic), and Professor X (Charles Xavier)

Join Forces missions lend characters to the player (this is in addition to copies of the character the player may already have) This allows the player to play a mission even if they don't have the character.

Unlocks the first Training Exercise and Individual Training missions.

9 Training Exercise missions

Rewards include 100, 250, or 500 Iso-8

3 Call for Backup missions

Each mission unlocks after a set of three Training Exercise missions
Requires Cyclops (Classic), Wolverine (X-Force), and Professor X (Charles Xavier)
Later missions require these characters to be a certain level or higher (94 and 209 respectively)
Rewards include Hearts of Darkness tokens, and a random Rogue (Classic) cover

5 Individual Training missions

1-on-1 missions requiring Rogue (Classic)
Later missions require Rogue to be a certain level or higher (78, 111, 169, 251 respectively)
Rewards include Command Points, and a Latest Legends Token
Progression Rewards

4 Tiers of Progression Rewards

1,000, 1,000, 5,000, and 10,000 Iso-8
Rogue and Friends Vault
Starts: Sunday, October 1st, 8am EDT
Ends: Friday, October 6th, 2am EDT
The Story event, Webbed Wonder, and the Versus Tournament, Close Contact (Rogue's Versus Tournament) will both reward tokens to this Vault.
80 Item Vault

1 Legendary Token
3 4-Star Characters

1 Random Rogue (Classic) cover
2 4-Star characters from the Call for Backup missions

22 3-Star Characters
54 2-Star Characters