Hi Everyone -
Just wanted to share a brief update that we moved to a new editor for our forums with the Rich Editor experience (previously WYSIWYG). We believe this will provide a better experience for all forum visitors in the long run. If you are interested in learning more about the new editor, please visit the URL below.
And please let us know if you find any bugs/issues with the new editor by emailing us at
[email protected]
and we will pass along this feedback to the team.
Thank you!
https://blog.vanillaforums.com/rich-editor-enhancing-your-forum-posting-experience
Thanos Boss Event: Come and Get Me * Updated (4/27/17)

Brigby
ADMINISTRATORS
Posts: 7,738
Site Admin
Hi Everyone,
This Thursday, April 27th, will be the debut of the Thanos Boss Event: Come and Get Me, concluding on Sunday, April 30th.
Here are all the details for this upcoming event!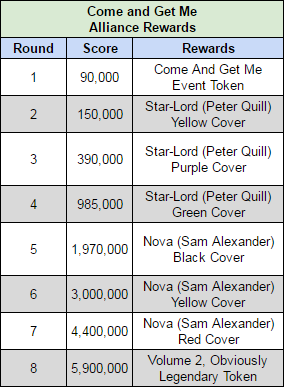 Powered-Up Characters
Featured: Ant Man (Scott Lang), Storm (Mohawk), Captain Marvel (Ms. Marvel)
New Character: Star-Lord (Awesome Mix Volume 2), Cloak & Dagger (Classic), Star-Lord (Peter Quill)
Event:

5-Star - Hawkeye (Clint Barton), Spider-Man (Back in Black), Wolverine (Old Man Logan)
4-Star - Ant-Man (Scott Lang), Drax (The Destroyer), Star-Lord (Legendary Outlaw), Wolverine (X-Force)
3-Star - Gamora (Guardians of the Galaxy), Rocket & Groot (Most Wanted), Spider-Man (Classic), Wolverine (Patch),
2-Star - Hawkeye (Modern), Spider-Man (Bag-Man), Wolverine (Astonishing X-Men)
1-Star - Hawkeye (Classic), Spider-Man (Original)
Thanos (Infinity Saga)
Doesn't make matches
Infinity Gauntlet

Black Passive
If there isn't already one on the board, create a 2-turn Gauntlet tile that charges and destroys the entire row, dealing massive damage and gaining triple AP.
The Gauntlet tile can't be matched and won't fall

Infinite Power

8 Purple AP
Creates a Purple Countdown tile. (3-turn tile at Rounds 1-6. 4 turn tile at rounds 7 & 8)
While this tile is on the board, Thanos (Infinity Saga) deals 15% extra damage and no tiles may be destroyed or changed except by Thanos (Infinity Saga) (tiles may still be matched away)

Infinity Gems

Green Passive
Thanos cannot be Stunned nor sent Airborne
At the beginning of the battle, place one of each Infinity Gem on the board. Destroying the Gem gives you the following effect:

Time Gem: Creates a random duplicate non-Purple Infinity Gem
Mind Gem: Generate 30 AP of a random color
Reality Gem: Give a burst of healing to your entire team, restoring them to full health.
Power Gem: Deal a massive amount of damage to Thanos (a little more than third of his max health).
Space Gem: Create 2 Critical tiles
Soul Gem: Destroy all Green tiles, dealing damage but not generating AP
Come and Get Me Cover Store
Chance to get 3-Star Star-Lord (Peter Quill)
Volume 2, Obviously Cover Store
10% chance for a Star-Lord (Awesome Mix Volume 2) cover
90% chance at the latest 4-Stars
Additional Tokens can be purchased for 25 Command Points
Star-Lord Limited Vault
40 items

Volume 2, Obviously Legendary token
1 random 4-Star cover
3 Star-Lord (Peter Quill) covers (one of each)
6 Heroic tokens
4x 2500 Iso-8
6x 1000 Iso-8
5x 500 Iso-8
14 Random 2-Star covers