Hello D3 Go! Forum Users -

If you are still having trouble updating your birth date on your forum profile, then please follow the steps listed in the below discussion thread.

Please copy and paste this URL for details --> https://forums.d3go.com/discussion/72653/new-forum-terms-of-service-steps-to-update-profile

It is very important that all users complete this process, otherwise they will unfortunately be unable to actively participate in the forum on their current account.

Thank you!
Space Stone Season Updates *Updated (8/9/18)

Brigby
ADMINISTRATORS
Posts: 6,330
Site Admin
Hi Everyone,
Here are the updates to the Space Stone Season starting tomorrow, 7/26.
Pack Updates
Ghost (Quantum Thief) is being added to packs.
Character Update
Gambit (Classic) will be receiving a character update.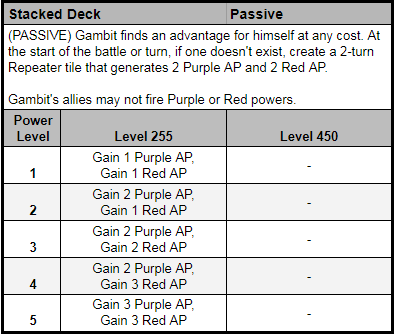 5-Star Gambit can be sold for Iso-8, as well as special Legendary tokens. These tokens can be redeemed in a Marvel Legends Legendary cover store. This store contains only the following 5-Star characters:

Archangel
Black Bolt
Black Panther (Civil War)
Black Widow (Natasha Romanoff)
Captain America (First Avenger)
Captain America (Infinity War)
Daredevil (Matt Murdock)
Doctor Strange (Sorcerer Supreme)
Ghost Rider (Robbie Reyes)
Green Goblin
Hawkeye (Clint Barton)
Iron Man (Mark XLVI)
Jean Grey (Phoenix)
Jessica Jones
Okoye
Silver Surfer
Spider-Man (Back in Black)
Spider-Man (Peter Parker)
Star-Lord (Awesome Mix Volume 2)
Thanos (The Mad Titan)
The Hulk (Bruce Banner)
Thor (Gladiator)
Wasp (Hope Van Dyne)
Wolverine (Old Man Logan)

The number of tokens you will receive is based on Gambit's character level, including Champion levels. These changes, and the increased sell prices, will be in the game once the update goes live.
You receive additional covers at 275, 287, 303, 319, 331, 347, 363, 375, 391, 407, 423, 439. You receive a cover back for each Champion level you apply to Gambit. *New Update*

A Latest Legends token will be gifted to any player who used Gambit (Classic) during the past Mind Stone Season