Improving Combined Arms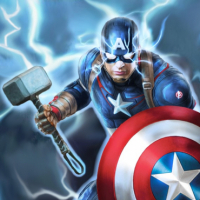 JSP869
Posts: 733
Critical Contributor
For Combined Arms we have to select one 2-star, one 3-star, and one 4-star character. The character positions are already predetermined but in the completely wrong way. Why would you force our 2-star into the main tank position and not even have the 4-star in the off tank position?! That's just ludicrous! The 2-star should be to the right, and the 4-star should be front & center.

When attempting to select a particular character, such as a 4-star, they will not automatically fill the 4-star spot IF the "wrong" spot is selected. If I've selected the 3-star spot and I tap 4-star Gamora, she will not be selected to the 4-star spot. This makes no sense. If I've tapped on 4-star Gamora I clearly want her on my team, so the game should just replace my currently selected 4-star with Gamora.

What's interesting is that another one of the features I would like to see implemented is actually already in there, it just works in the wrong way.

Let's say I have 4-star Gamora selected to my team. When I scroll down to the 3-stars and tap 3-star Gamora...my roster jumps back up to the 4-stars and highlights 4-star Gamora in the 4-star spot. I get it. The game is obviously telling me that I cannot select 3-star Gamora without first replacing 4-star Gamora. But...

if the game can automatically move our roster to our 4-stars when we try to select a 4-star variant of a character that's already been selected to the 3-star spot (as above), then when we tap the 3-star spot or the 2-star spot our roster should automatically jump to our 3-stars, or our 2-stars.

We should not have to scroll all the way through our roster for this. I have 183 characters in my roster. I know others have even more but that's 73 4-stars we have to scroll through to get down to the 3-stars, then another 63 3-stars (for me) to scroll through to get to my 2-stars. Yes, I know there's only 47 3-stars in the game, I have a few dupes in my 3-star farm.

TLDR

1) Move the 4-star spot to the front/main tank position, and move the 2-star spot to the back/right.

2) Tapping on a 4-star character should add them to the 4-star spot even if the 4-star spot is not selected.

3) Tapping the character currently in the 3-star spot, or the 2-star spot, or the 4-star spot, should automatically move my roster to my 3-stars, or my 2-stars, or my 4-stars.