New Supports: Quantum Realm (7/17/18)

Brigby
ADMINISTRATORS
Posts: 7,757
Site Admin
Hi Everyone,
Get ready to shrink down to sub-atomic levels, because the Quantum Realm has arrived as the latest Support. 
Quantum Realm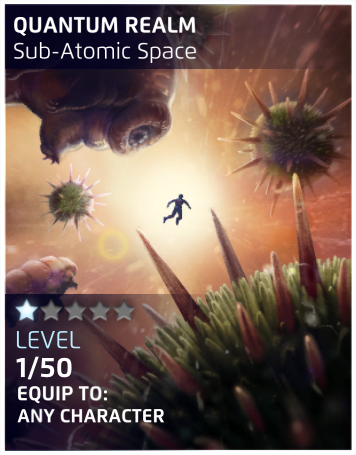 Perk List
(
All Perks are listed at Level 250, Rank 5
)
Unlocks at Rank 1

At the start of Battle, there's a 72% chance to gain 6 Purple AP.

Unlocks at Rank 3

The supported Character takes 24% less damage from enemy matches.

Unlocks at Rank 5

While they are Invisible, the supported character's powers deal an additional 5,567 damage to enemies.

Ghost (Quantum Thief) Synergy Perk

When Ghost is healed, there's a 15% chance she'll create an Invisibility Tile targeting herself.
Store Offers
General
Quantum Realm (Sub-Atomic Space) will be visible in the Support screen at 7:00 AM EDT on Tuesday July 17th
New vault and store offering will be made available at 12:00 PM EDT later that day (See Below).
All special offers last for two days.
Supports: Quantum Realm Store
Has all the contents of the Supports Comic Store plus:

Vibranium Ore (Wakandan Secret)
The Dora Milaje (Protectors of the Throne)
Shuri's Lab (Maker Space)
Kimoyo Beads (Vibranium Communicator)
Ancestral Plane (Home of Panthers)
Royal Talon Fighter (Vibranium Aircraft)
Spider-Sense (Danger Detection)
Hulkling (Young Avengers)
Wasp Gauntlets (Pym Blasters)
Quantum Realm (Sub-Atomic Space)

Quantum Realm is available at 4x odds
Has Beginner, Advanced, and Master packs
The odds to get a Rank 5 Support in the Master pack is 1 in 27.
Only visible if you have a token for it.
Quantum Realm Vault
A 120 item vault

1x Quantum Realm: Master token
5x Quantum Realm: Advanced token
9x Quantum Realm: Beginner token
1x random 4-Star
14x random 3-Stars
63x random 2-Stars
1x 300 Red Iso-8 items
3x 200 Red Iso-8 items
3x 150 Red Iso-8 items
2x 50 Red Iso-8 items
3x 25 Red Iso-8
2x 5,000 Iso-8 items
5x 1,500 Iso-8 items
8x 1,000 Iso-8 items
Miles Morales Heroes for Hire Offer
Available to all players
Available in the Heroes for Hire store
4,800 Hero Points
Maximum 1 purchase.
Contents:

Miles Morales (Spider-Man) Purple Cover
2x Quantum Realm: Advanced token
3x Quantum Realm: Beginner token
1,500 Red Iso-8
Professor X Heroes for Hire Offer
Available to all players
Available in the Heroes for Hire store
250 Command Points
Maximum 1 purchase.
Contents:

Professor X (Charles Xavier) Blue Cover
1x Quantum Realm: Master token
1x Quantum Realm: Advanced token
5,000 Red Iso-8