Deck slots
shteev
Age Unconfirmed
Posts: 2,031
Chairperson of the Boards
So deck slots are coming! That we know. At some point in the future. But definitely. In this thread I'd like to discuss what we want from them.
Deck slots are a thing that we the players have been craving for a long time in order to make our lives more convenient. The biggest elements of the MTGPQ metagame are currently objectives, and these often require completely different decks to achieve.. you can't expect to use the same deck to win both a 'Use 0 supports' objective and a 'Use >=8 supports' objective! Different nodes in the same PvE events often require radically different decks, and sometimes we get 2 or 3 events running concurrently.
In theory, providing us with deck slots should be a move which is met with a positive response from the player base, which would be a bit of a change from the constant stream of negative feedback which exists currently. I personally wouldn't mind them being monetized provided the price is decent and they provide the kind of functionality that I'm looking for. As the web series Extra Credits once said:
"paying for power is bad, and paying for convenience is good, so quit it with selling Barals and large wadges of Jewels and let us pay for something we don't feel is going to destroy the game!"
.
Let me show you how I save my decklists at the moment, so you can get some idea of the functionality of deck slots which I'd like.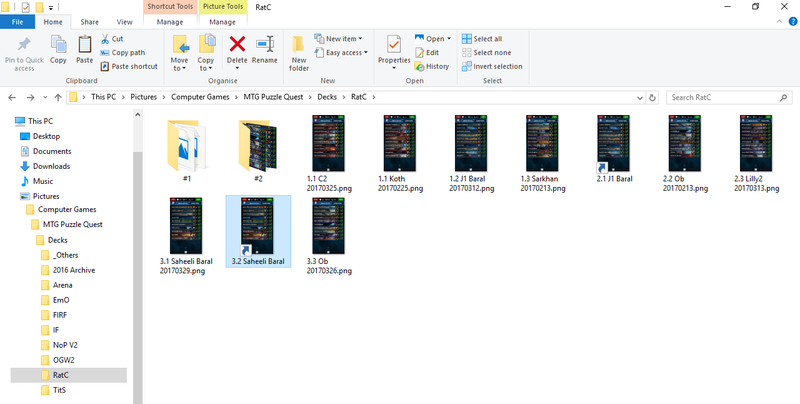 It's a pretty obvious way to keep track of my decks, and I'm sure that some of you are doing the same. My concern is that when deck slots are implemented into the game that I will lose a lot of the features that I've grown used to, and thus a new feature added to the game, supposedly for my benefit, will provide me with more frustration and joy, which, knowing me, I'll probably come and grouse endlessly about here on the forums.
Let me spell out exactly what I get from my currently filing system. There are, of course, downsides to saving all my decks as screenshots, but here are the positives:
Editable, long deck names
Organisation of decks in folders
Cut and paste deck lists to other locations
Export decklists to share with other players
A permanent historical record of all my decks
It's a pretty short list, tbh, and that last one may not be feasible under a monetized system (or even required by many players), but I can see potentially every one of these things left out of a simplistic implementation of deck slots that gives me AJANI A and AJANI B as my slots and means I have to open them and wait for the decks to load to see what's in them.
So finally let's talk about what will happen if the implemented system of deckslots is inadequate to my needs... and the answer is obvious: I will barely use it. The fact is that I'm used to working around not having deck slots, and while the systems I have in place for myself currently are somewhat inconvenient I'm very used to using them and I've grown more comfortable with them over time. I have over 20 PWs, and more will be coming in the future, so I have over 20 deck slots already. Some of my planeswalkers may be rubbish, but they're fine for particular levels in currently active events (e.g. Chandra1 for RatC 1.1, or Jace1 for RatC 1.2), and I've already had these decks in place unaltered for a few weeks. Ob Nixilis currently requires a lot of switching around, but the introduction of Tezz2 will put less pressure on his slot, and even though I use Ob for RatC 2.2 and 3.3 atm with decks that are only 60% similar, I've gotten very good at swapping those 4 cards around out of practice. Sometimes I know that a current deck in a PW slot isn't quite right for a level I want to play, but I play it anyway because I know it'll be fine, and because the prizes for events are so sucky these days that losing a few points here and there doesn't make much difference. The penaltys for being too lazy to change a deck are very, very low.
Deck slots should be an opportunity to give something back to the players after taking so much from them. If you give me something I want, I'll be grateful for it, happy to use it, and even happy to pay money for it, or other elements in the game. This would be a great peace offering to the Not.Another.Dime. movement. If it's done right.