Best Of
I have played since nearly day 1. I played every node in most events, tons of QB each week, and spent hundreds of dollars on cards, crystal and bundles. Yet, I still don't have remotely enough runes to take every PW to level 60.
Why in the world are you guys so stingy with runes?
Even when you offer them in bundles it is a laughable amount. The most expensive current bundle is selling for $39.99. It comes with a pathetic 35,000 runes. That is not enough to level Nicol Bolas from 58 to 60.
In fact, to get Nicol Bolas to level 60 here are some options:
Buy 380 Premium Packs of all dupes (Assuming a generous 150 runes per booster + 100 for the rare). That would only cost a cool $4000 if you bought the necessary 121,600 crystals via 3000 crystals packs for $100 each.
Play

WIN 1080 games of Training Grounds.
Buy 10 Epic Starter Pack Bundles for $39.99 each. That would only cost $400, except you are only allowed 1 purchase...
Buy 65 Training Packs at $4.99 each... that would run you about $324.
I mean honestly... ridiculous.
And here is the catch. Let's just say that you are a bunch of greedy people trying to milk us for all our worth. Don't you realize that I am not going to spend $40 for a PW if I can't afford to level them? I can just be patient and let my runes build until they are available in the vault, or maybe not get them at all (Looking at you J3, Angrath, H1).
It's just not a reasonable model and I can't for the life of me understand how it is good for the game or the developers.
If you are worried about players progressing through the game too quickly, then simply be stingy with runes in story mode and in lower tiers. You can't possibly want to avoid a whale from spending so much money that they progress very quickly.
Anyway, I think you guys should really take a look at the poorly thought out rune distribution. After all... no reason to buy Karn with cash if I can't get him past level 10.
@Oktagon_Daiane
I rarely tag.. but this has been a problem for a very long time. Please pay attention.
2.6 Release Notes
Karn, Scion of Urza
Karn steps into Magic Puzzle Quest as our first ever Colorless Planeswalker, and he brings with him 5 Dominaria cards in his Custom Deck.
Being the first Colorless Planeswalker, Karn has some special rules for events.
Karn is allowed in events of any color(s)
Karn is allowed to enter nodes of any color(s)
Karn will only be allowed to player with a deck that contains cards that:

are Colorless
match the color(s) of the node.
are from the correct format (Standard/Legacy)

To exemplify:

Black Node:

Karn's deck will only be allowed to use Black and/or Colorless cards

Blue-Green Node:

Karn's deck will only be allowed to use Green, Blue, and/or Colorless cards

5-Color Nodes:

Karn's deck is allowed to use all cards from all colors and/or Colorless cards
Karn, Scion of Urza Bundle

Behold the silver golem's might, and be one of the first to wield some of Dominaria's colorless cards in your deck.
The new Karn, Scion of Urza bundle will be available in Magic: The Gathering - Puzzle Quest until May 23rd, 8AM UTC. The bundle includes 5,000 Mana Runes and a custom deck of 5 Dominaria cards from the upcoming set.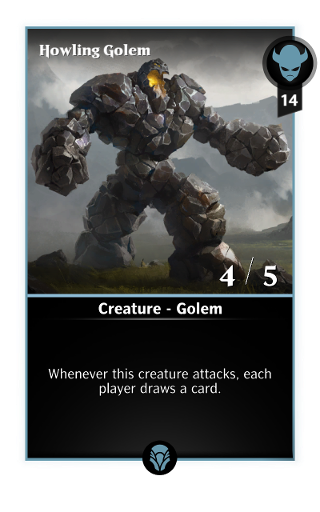 After the May 23rd date, Karn, Scion of Urza won't be available in the Vault for Mana Crystals just yet until a later, not-yet-announced date. This date will be longer than previously released Planeswalkers, which tended to be 3 weeks after conclusion of bundle sale.
Our Gift to You
In anticipation of our return home to Dominaria, we want to give everyone a gift for being a part of the Magic Puzzle Quest community. Thank you for your support.
Changes
Rivals of Ixalan cards are now available in Booster Crafting
Newest bundle offers are now displayed at the top of the Vault
Switched Customer Support platform from Zendesk to Helpshift

Push notifications will not be available in iOS if the app isn't running. This issue will be fixed in 2.7. Players will still receive an Inbox message though.
Bug Fixes
Elenda, the Dusk Rose will now properly reinforce when an opponent's creature is Destroyed. *New Update*
Rekindled Phoenix now replaces the Phoenix Elemental Totem's slot on the battlefield, instead of a Replace Creature prompt appearing *New Update*
Costly Plunder now destroys the last Creature you control, instead of the first.
After Jadelight Ranger's second Explore ability causes a gem match to occur, the player will now gain mana, instead of the opponent.
Vampire tokens are no longer reinforced, instead of being destroyed, when gaining life if they received damage equal to their Toughness during combat in the War of Sun and Dusk Event Node
HOU Exclusives are no longer tagged as Exclusive, and will be able to be crafted in Booster Crafting.
Fixed some minor text issues

Brigby