Resolved: OP can't count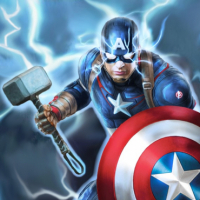 JSP869
Posts: 734
Critical Contributor
I decided to leave my A-team at home and try to beat a Bishop, Gamora, + 5-star Black Panther team with my own Bishop team.

By my fourth turn, courtesy of the enemy 5s match damage, I'd stunned the entire AI team. And that was when I noticed something very odd.

Even though I'd been matching almost all of the Blue gems, and even though I'd stunned the enemy Bishop on my second turn, the AI team had still somehow acquired 9 Blue AP. I noticed this because they were running Gamora with Bishop so I was worried doubly about the AI's stun potential.

And so when I hit the stunned Bishop with a nuke, even though their entire team was stunned, I noticed their Blue AP had now increased to 14.

Even though Bishop was stunned, General Reserves was STILL generating Blue AP for his team.

"Why has nobody noticed this?" you ask.

Because it ONLY happens when you nuke but don't KO a stunned Bishop and the enemy has less than 10 Blue AP.
It won't happen if the AI has more than 10 Blue AP, and it won't happen if you 1-shot the stunned Bishop.

Bishop IS Broken and NOT because General Reserves procs off a 5-star's match damage, but because it generates Blue AP even when he's stunned.

edit Weirdness all around. After first posting, I realized my reference to the AI having Bishop on their team wasn't there so I edited my post and added Bishop's name, and on that edit I managed to delete (overwrite) Gamora's name without realizing.