Hi Everyone -
Just wanted to share a brief update that we moved to a new editor for our forums with the Rich Editor experience (previously WYSIWYG). We believe this will provide a better experience for all forum visitors in the long run. If you are interested in learning more about the new editor, please visit the URL below.
And please let us know if you find any bugs/issues with the new editor by emailing us at
[email protected]
and we will pass along this feedback to the team.
Thank you!
https://blog.vanillaforums.com/rich-editor-enhancing-your-forum-posting-experience
Game repeatedly chooses weaker rostered character over stronger loaner character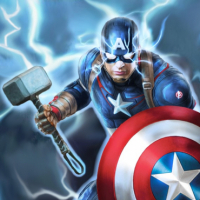 JSP869
Posts: 729
Critical Contributor
On my Alt account I have two purple covers for my Thanos. No Black covers and no Green covers, just two Purple covers. He is not leveled at all, so even though he's boosted for his PvP event he's still the same level as the loaner Thanos.
For the first seed node I chose the loaner because it has Court Death. I won that first match, began the second seed node match, downed the low level Storm, then did a double take because Court Death did not resolve.
Because even though I'd chosen the loaner character for the first match, the game had defaulted to select my Thanos for the second match.
If I've chosen the loaner character or my own character for one match, the game should NOT override my decision for subsequent matches.

Why is this still an issue after 5-6 years of PvP?