2.6 Release Notes *Updated (4/19/18)

Brigby
ADMINISTRATORS
Posts: 7,757
Site Admin
2.6 Release Notes
Karn, Scion of Urza
Karn steps into Magic Puzzle Quest as our first ever Colorless Planeswalker, and he brings with him 5 Dominaria cards in his Custom Deck.
Being the first Colorless Planeswalker, Karn has some special rules for events.
Karn is allowed in events of any color(s)
Karn is allowed to enter nodes of any color(s)
Karn will only be allowed to player with a deck that contains cards that:

are Colorless
match the color(s) of the node.
are from the correct format (Standard/Legacy)

To exemplify:

Black Node:

Karn's deck will only be allowed to use Black and/or Colorless cards

Blue-Green Node:

Karn's deck will only be allowed to use Green, Blue, and/or Colorless cards

5-Color Nodes:

Karn's deck is allowed to use all cards from all colors and/or Colorless cards
Karn, Scion of Urza Bundle

Behold the silver golem's might, and be one of the first to wield some of Dominaria's colorless cards in your deck. 
The new Karn, Scion of Urza bundle will be available in Magic: The Gathering - Puzzle Quest until May 23rd, 8AM UTC. The bundle includes 5,000 Mana Runes and a custom deck of 5 Dominaria cards from the upcoming set.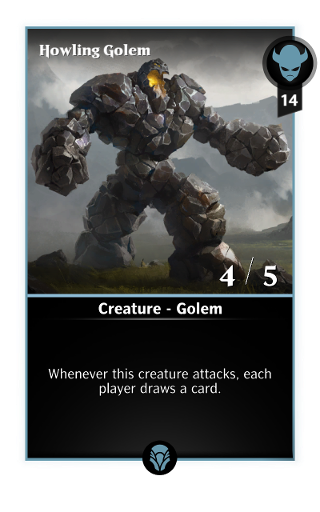 After the May 23rd date, Karn, Scion of Urza won't be available in the Vault for Mana Crystals just yet until a later, not-yet-announced date. This date will be longer than previously released Planeswalkers, which tended to be 3 weeks after conclusion of bundle sale.
Our Gift to You
In anticipation of our return home to Dominaria, we want to give everyone a gift for being a part of the Magic Puzzle Quest community. Thank you for your support.
Changes
Rivals of Ixalan cards are now available in Booster Crafting
Newest bundle offers are now displayed at the top of the Vault
Switched Customer Support platform from Zendesk to Helpshift

Push notifications will not be available in iOS if the app isn't running. This issue will be fixed in 2.7. Players will still receive an Inbox message though.
Bug Fixes
Elenda, the Dusk Rose will now properly reinforce when an opponent's creature is Destroyed. *New Update*
Rekindled Phoenix now replaces the Phoenix Elemental Totem's slot on the battlefield, instead of a Replace Creature prompt appearing *New Update*
Costly Plunder now destroys the last Creature you control, instead of the first.
After Jadelight Ranger's second Explore ability causes a gem match to occur, the player will now gain mana, instead of the opponent.
Vampire tokens are no longer reinforced, instead of being destroyed, when gaining life if they received damage equal to their Toughness during combat in the War of Sun and Dusk Event Node
HOU Exclusives are no longer tagged as Exclusive, and will be able to be crafted in Booster Crafting.
Fixed some minor text issues
This discussion has been closed.