Please, enough with gimmick tiles, Hazard tiles, etc.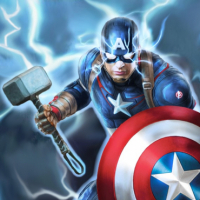 JSP869
Posts: 733
Critical Contributor
For me, I think one of the features, or lack thereof, that has kept me playing this game for so long is the lack of gimmick tiles present in so many other Match 3 games. My wife plays these games all the time, Candy Crush was big for a while, and most recently it was Gardenscapes. I played them along with her because she wanted me to send her lives (so she could keep playing) and for a short while these games were fun. But the more you play them, the more gimmick tiles are introduced and the game very quickly becomes very frustrating. 

Unfortunately for me I'm an explorer/completionist and so once Candy Crush, Gardenscapes, etc. got their hooks into me, I always felt compelled to beat them, even though I wasn't enjoying playing them. Sometimes I'd be playing the same damn level for days on end before finally managing to beat it, and when I finally did, I was like Mick Jagger and the Rolling Stones (no satisfaction). My sole thought on beating a difficult level in Candy Crush, etc., was always "F**k you, game!" Now I admit there are MPQ matches where I've had the same thought after winning (or losing) but those are few and far between. For the most part I do get a lot of satisfaction out of playing MPQ. Lately I've been playing SCL9 and on some of the harder nodes, from time to time I will have to replay them a couple of times until I beat them. And when I do, it's very satisfying! I get a sense of achievement and accomplishment.

I've been playing MPQ for at least 4 years. I'm currently on Day 1466. My wife typically only plays her Match 3 games for maybe 6-8 months before moving onto a new game. Why? Because eventually the levels get so ridiculously frustrating with all the gimmick tiles that the game is just not fun to play.

If you continue to introduce more and more gimmick tiles to MPQ then it will stop being fun too, for me and others like me, and we will stop playing. (I don't have any delusions of grandeur, I've spent a few hundred dollars playing MPQ but I'm not a whale or even a shark, you won't even notice I'm gone.)

There was a PvP event not too long ago where tiles entering the board had a chance to be a counter tile. The description for the counter tiles indicated they didn't belong to you or to the AI team, but they did, belong to the AI team that is. Because they would count down at the beginning of the AI's turn so people were running Carol with Grocket, Daken, Bl4de, etc., and when those counters counted down, the AI's Carol would buff her team's Strike tiles, even though the counters didn't belong to the AI team. That was not a fun event and it was not fun solely because of those gimmick counter tiles.

Please, enough with the gimmick tiles. I really like this game and I want to continue playing it. As I said earlier I'm playing SCL9, I'm getting more 4* champions (up to 35 now), I'm getting more covers for more of my 5*s and I can see myself having 1-2 fully covered 5*s by the end of the year. I'm finally feeling like I'm playing MPQ's "end game". It's like Raiding in EQ or WoW. All MMOs have exploring and leveling and dungeons, but the pinnacle of MMos are the Raids. That's the stage I feel I'm finally getting to with MPQ, and I'm loving it! Obviously I've always enjoyed playing MPQ or I wouldn't have continued playing for 4+ years, but I'm really starting to enjoy the game now, more than ever.

Except you're about to destroy that by introducing more and more gimmick tiles which, for me, will make your game just another Match 3 clone, and then it won't be fun, and eventually I'll stop playing. Please don't do this. Absolutely introduce more characters, even 6*s, we know they're coming eventually, but please no more gimmick tiles.