4* DDQ Crash of the Titans - 4* Order and Opponents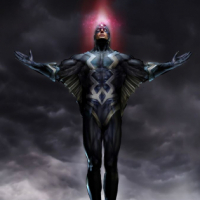 BlackBoltRocks
Posts: 898
Critical Contributor
jojeda654 and @GrimSkald made brilliant compendiums listing the order of required 4* characters for Crash of the Titans in DDQ. I've decided to build on from there, listing not just the order but also their most recent opponents.
The order of required 4*, by right, follows the character's classifications (the information in parenthesis), then presumably by alphabetical order of their main names. I say "by right" because for some reason "Sam Wilson (Captain America)" comes before "Peggy Carter (Captain America)", and "The Thing (Classic)" comes before "Invisible Woman (Classic)", who herself comes before "Cloak & Dagger (Classic) *shrugs* The list reflects this. Also, the aforementioned Falcap was skipped for some reason just this past week (first week of Jan 2018); we went straight to Professor X. So do bear these in mind.
Also, a 4* will need to have been featured (i.e. the essential 4* character) in PvE at least twice to qualify for their own clash.
Those in bold have yet to get their own crash at time of last update. List is up to and including Juggernaut.


Prowler (Aaron Davis)
Vulture (Adrian Toomes) vs 5* Peter Parker
Venom (Agent Venom) - vs 4* Luke Cage
Agent Coulson (Agents of S.H.I.E.L.D.) - vs 5* Dr Strange
X-23 (All-New Wolverine) - vs 4* Elektra
Iceman (All-New X-Men) - vs 4* Jean Grey
Jean Grey (All New X-Men) - vs Moonstone
Valkyrie (Asgardian Warrior) - vs Rogue
Emma Frost (Astonishing X-Men)
Gamora (Awesome Mix Volume 2) - vs 5* Thanos
Rocket & Groot (Awesome Mix Volume 2) - vs Drax
Yondu (Awesome Mix Volume 2) - vs 4* Gamora

Wiccan (Billy Kaplan) - vs America Chavez
Mockingbird (Bobbi Morse) - vs 5* Hawkeye
Winter Soldier (Bucky Barnes) - vs 3* Black Panther
Peggy Carter (Captain America) - vs 4* Wasp

Sam Wilson (Captain America) - vs 3* Captain Marvel
Captain Marvel (Carol Danvers) - vs IM46
Professor X (Charles Xavier) - vs 4* Elektra
Cyclops (Classic) - vs Hulkbuster
Rogue (Classic) - vs 4* Iceman
The Thing (Classic) - vs 3* Human Torch
Dazzler (Classic) - vs 4* Rocket & Groot
Invisible Woman (Classic) - vs Quicksilver
Cloak & Dagger (Classic) - vs 5* Dr Strange
Magik (Classic)
Nightcrawler (Classic) - vs 4* Professor X
Bishop (Classic)
Carnage (Cletus Kasady) - vs 3* Dr Octopus
Quake (Daisy Johnson) - vs Invisible Woman
Iron Fist (Danny Rand) - vs 4* Elektra
Drax (The Destroyer) - vs 3* Thanos
Nick Fury (Director Of S.H.I.E.L.D.) - vs 3* Magneto
Venom (Eddie Brock) - vs Carnage
Thanos (Endgame)
Juggernaut (Fear Itself)
Sandman (Flint Marko) - vs 5* Spiderman (Black Suit)
Thor (Goddess of Thunder) - vs Ragnarok
Gwenpool (Gwen Poole) - vs Moon Knight
Spider-Gwen (Gwen Stacy) - vs Miles Morales
Kate Bishop (Hawkeye) - vs Hawkguy
Iron Man (Hulkbuster) - vs 3* Hulk
Black Panther (King of Wakanda) - vs Prowler
Black Widow (Infinity War) - vs War Machine
Nebula (Infinity War) - vs 5* Thanos
Spider-Man (Infinity War) - vs Antman
Medusa (Inhuman Queen) - vs 3* Human Torch
Riri Williams (Ironheart) - vs Hulkbuster
War Machine (James Rhodes) - vs 5* Thanos
Wasp (Janet van Dyne) - vs Antman
Spider-Woman (Jessica Drew) - vs 4* Elektra
Ghost Rider (Johnny Blaze) - vs Galactus
Black Panther (King of Wakanda) - vs Prowler
Star Lord (Legendary Outlaw) - vs 3* Gamora
The Hulk (The Main Event) - vs 5* Thor

Moon Knight (Marc Spector) - vs X-23
Shuri (Master Engineer) - vs Green Goblin
Mordo (Master of the Mystic Arts) - vs 5* Dr Strange
Black Cat (Master Thief)
The Punisher (MAX) - vs 4* Captain Marvel
Blade (Modern) - vs Medusa
Luke Cage (Power Man) - vs 4* Gamora
Ghost (Quantum Thief) - vs 5* Black Widow
Mysterio (Quentin Beck)
Mr. Fantastic (Reed Richards) - vs 3* Dr Doom
Hawkeye (Ronin) - vs 4* Thanos
Lockjaw (Royal Bulldog) - vs 3* Human Torch
Nico Minoru (Runaways) - vs Kate Bishop
Nova (Sam Alexander) - vs Falcap
Ant-Man (Scott Lang) - vs 4* Jean Grey
Kraven the Hunter (Sergei Kravinoff)
Talos (Skrull Warlord)
Miles Morales (Spider-Man) - vs Spiderwoman

Namor (The Sub-Mariner)
Red Hulk (Thunderbolt Ross) - vs 3* Hulk
The Hulk (Totally Awesome) - vs Beast
Deadpool (Uncanny X-Force) - vs Xverine
Jubilee (Uncanny X-Men)
Elektra (Unkillable) - vs 3* Blade
Sabretooth (Victor Creed)
Kingpin (Wilson Fisk) - vs 3* Luke Cage
Domino (X-Force)
Wolverine (X-Force) - vs 3* Cyclops
America Chavez (Young Avengers) - vs 3* Loki

____________________________________

****LIMITED 4****. These three are not in the regular rotation, and are featured only on special occasions, such as Devil Dinosaur during Anniversaries.
Devil Dinosaur (Gigantic Reptile) - vs Squirrel Girl
Howard the Duck (Howard, a Duck) - vs 4* Punisher
Taskmaster (Tony Masters) - vs 3* Captain America
Spider-Ham (Peter Porker) - vs Spiderpig