MPQ Gamependium (Unofficial web tools: DDQ Calendar/Rosters)
Cymmina
Posts: 413
Mover and Shaker
Most of you have probably never heard of Gamependium, but it's a site I started back in 2005 when I was obsessing about Guild Wars and made a bunch of web utilities for it. It's a bit of a long story as to why it's been down for the past several years, but I've started working on it again now that I'm obessing over MPQ.
http://mpq.gamependium.com/
Front page if you're logged in and have submitted your roster data:

DDQ Calendar & History
Simple overview of the upcoming DDQ prizes in a convenient calendar format (with the week starting on Monday, rather than Sunday).
It will predict up until the end of the
next
rotation, with any new 3* characters tenatively inserted between the current rotataion and the next rotation. Predictions for upcoming characters are based on the most recent pattern. If the pattern changes (eg. Bullseye being inserted into the middle of the pattern), the calendar will remember this when predicting the next rotation. Adjusting the pattern is trivial, but it is something I have to do manually for now.
There is also a convenient side-by-side list of what characters the next 10 tokens will be for, so you know how long to horde your tokens.
Roster Tracker
I know what you're saying, "but cymmina, you already wrote a roster tracker!" This is a complete rewrite with a few new features:
Multiple copies of the same character
Short, human readable URLs to access your roster
Multiple rosters that are easily accessible
Version history: every time you save your roster, a snapshot is created
Sorting algorithm accurately matches the one used in game
A lot simpler for me to maintain
The downside is that now you have to sign-up to use it (but registration is instant! for now, anyway).
The 'rosters' page is currently only accessible if you're logged in, but all rosters are visible to the public if you can find a link to one (
this is my roster
).
Here's what the rosters page looks like once you're logged in and have created a roster or two: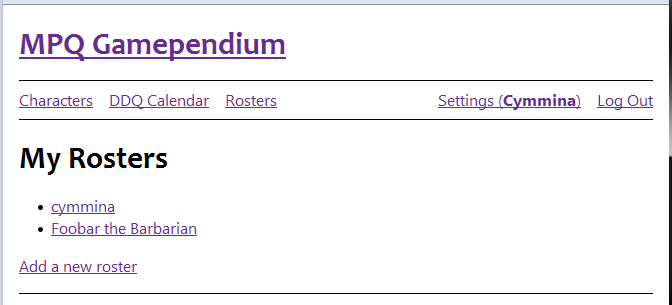 Here's what editing a roster looks like: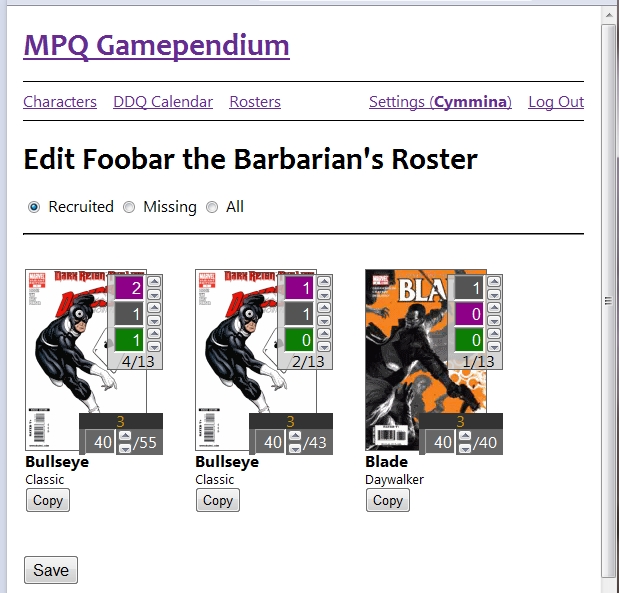 You might be thinking to yourself, "that all sounds great, but I have a roster created by your old tool, is there a way I can import it?" There certainly is!
Sign-up for a new account and login (yes, you must do this first)
Go to the page containing your old roster information and follow the 'migration page for this roster' link
Character Data
There's not too much to say about the character data. Other than the basic attributes (name, style, rarity, colors), you can see what builds are currently the most popular:
Black Widow (Original)
.
Upcoming Features
I don't want to make too many promises I can't keep, but here's a short list of what I'm planning to add in the near future:
A proper design
Integration between the DDQ calendar and your roster so you can tell if you need the prize being offered that day
Cover wishlist for your roster
More character statistics (when it was last seen in DDQ, etc.)