Hi Everyone -
Just wanted to share a brief update that we moved to a new editor for our forums with the Rich Editor experience (previously WYSIWYG). We believe this will provide a better experience for all forum visitors in the long run. If you are interested in learning more about the new editor, please visit the URL below.
And please let us know if you find any bugs/issues with the new editor by emailing us at
[email protected]
and we will pass along this feedback to the team.
Thank you!
https://blog.vanillaforums.com/rich-editor-enhancing-your-forum-posting-experience
Shadow Step damage not resolving correctly/immediately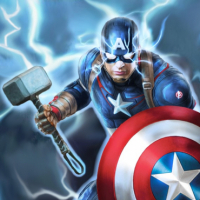 JSP869
Posts: 729
Critical Contributor
In an Assassin For Hire match just now I cast Shadow Step then matched purple to send Elektra to the front.
The AI Thor cast Asgardian Tactics and a Shadow Step trap tile disappeared.
If the Shadow Step trap tile disappeared, you would assume that both its effects would resolve immediately, however, only one of the two did and so Elektra did not eat the damage from Asgardian Tactics.
AI Thor then fired Smoldering Fire, then he made a match, a second Shadow Step tile disappeared, and only then with the AI's turn completely over did the Shadow Step damage finally resolve and KO Thor.
He should have been KOd immediately after casting Asgardian Tactics.