'Tis the "Season"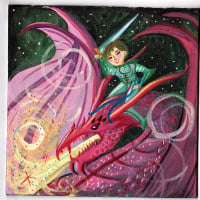 Ed_Dragonrider
Posts: 476
Mover and Shaker
Hi All!
So it seem to me, 'tis the season when wishes do come true around here (we just need to ask often enough); Dazzler and Kitty, increase in Riso and even an update to the resupply.
So I'd like to raise a topic too. I looked back on the forums here, and I know I'm not the first to push for this, but it's been a while now, and if the devs really are listening, and in a wish granting mood, then maybe this is the best time.
So once again:
please sort out and update the 3* to 4* feeders
please!
Currently there are 5 pairs of characters that give champ reward covers for the same 4* characters. Namely:
Angel + Beast ----> Jean Grey
Colossus + Wolverine ----> Wolverine X-Force
Daken + Ragnarok ----> X-23
Daredevil + Elektra ----> Elektra
Gamora + Star Lord ----> Star Lord
Now dilution being the big (and ever increasing) problem that it is, and the 4* tier being almost twice the size of the 3* one, having five of these characters give different 4*s instead, would be really helpful, much appreciated and an answer to many of our prayers/grumbles.
I know this might bring up a lot of issues, but properly communicating this well in advance, both on forums and in-game would allow everyone to make their decisions and in the long run can only benefit the game. We have save covers now, for those who would hold off on champing to get the new covers, and the BH feature would allow others to finish off what they were building with the old version. Even if "retroactively" comes into it, we are only talking 3 covers (per character), not 6 like with 4* changes.
Unless this is already in the works for a surprise anniversary gift to us all, this obviously won't be done any time soon. But perhaps for X-mas? New Year? Before the turn of the century?
And it doesn't need to be done all at once either, just change 1 or 2 now (this year) and then the others next year sometime.
There are so so many possibilities even if we go with the 'thematically makes sense' approach, and if that is not a concern (see thanos --> spider woman) then options are nearly endless.
For myself I would change:
 Beast --> Nightcrawler (if we need an excuse: both are x-men and both are blue 
)
 Colossus --> Emma Frost (again both x-men, both impenetrable skin)
 Ragnarok --> Ghost (both villains)
 Gamora --> Nebula (sisters)
Daredevil ---> just about any other hero (pull it out of a hat.... )
Of course there could be many other variations, but point is:
Please do something!!
Thank you